Talk about child slavery wins Voice of Youth award
03 Oct 2018
Good Shepherd Primary School Captain Christian Durante's moving speech about the devastating impact of child slavery has seen him win the highly competitive Voice of Youth title for 2018.
The Voice of Youth Grand Final was held at Our Lady of Lourdes, Seven Hills on Wednesday, 26 September. It was the conclusion of an event that saw students from 57 schools take part.
The judging panel included retired Principal Moya McGuiness, retired teacher librarian Judy Jordan, CSPD Team Leader Literacy Kathy Ferrari and CSPD Mission Teaching Educator Scott Carroll.
The six grand finalists were:
Emma Biviano from St Mary's Rydalmere who spoke about Deforestation
Tara Stoll from Bethany Glenmore Park who spoke about Gender Equity
Makalita Liutai from Holy Trinity Granville who spoke on Pacific Paradise
Christian Durante from Good Shepherd Plumpton who spoke about Child Slavery
Dana Adan from St Angela's Castle Hill who spoke about Poverty; and
Dianne Palma from St Joseph's Schofields who spoke on Let me get to the Top!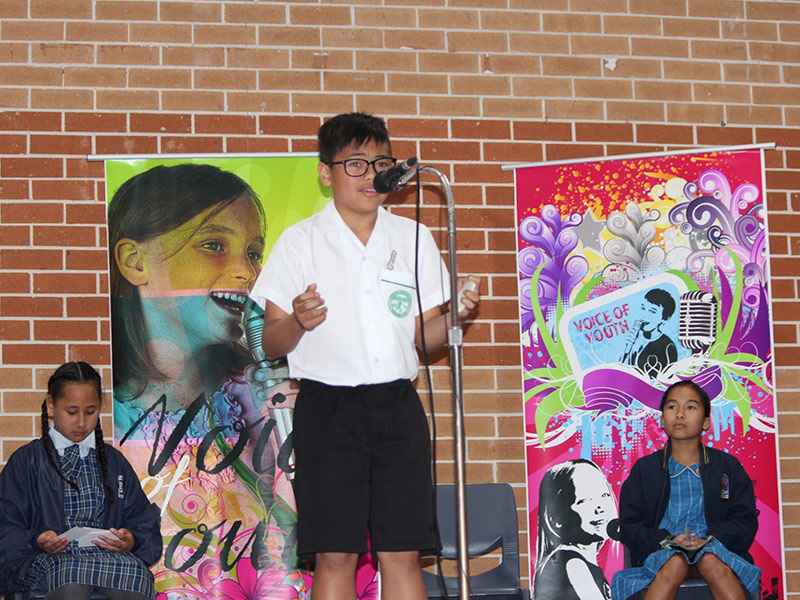 Good Shepherd's Christian Durante was announced the winner with his highly emotive first-person speech which gave the audience an understanding of what it would be like to be a child sold into slavery.
Runner up was Bethany Primary's Tara Stoll whose provocative speech highlighted the pay gap between women and men, the struggles girls and women face just to get an education and the confronting issue of domestic violence.
The Social Justice prize was given to St Angela's Dana Adan whose compelling speech on poverty was inspired by a recent trip to the Philippines.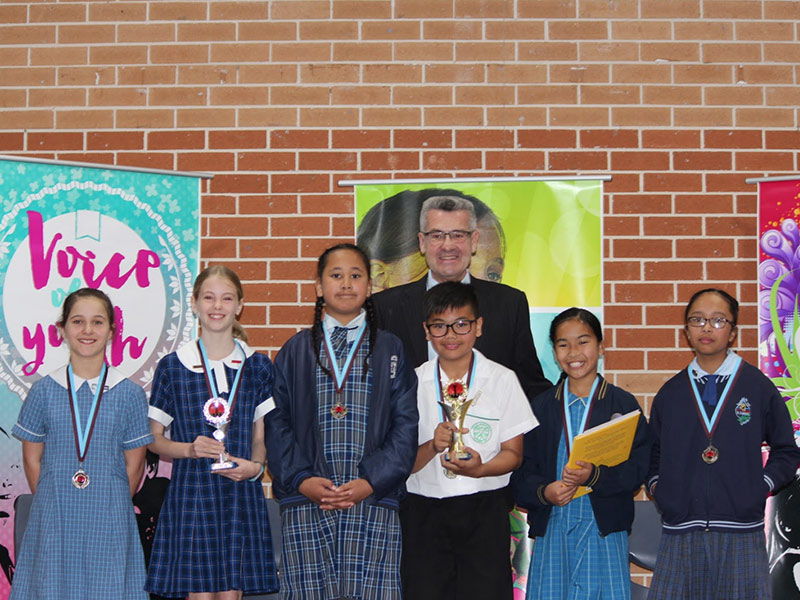 Event organiser Attila Lenvai said that the event is a wonderful showcase of student talent, and a powerful reminder to us all how important the voices are young people are in today's complex and challenging world.
The Voice of Youth Shield will now stand proudly at Good Shepherd Primary in Plumpton until 2019 winner is announced!
Facebook
29 Nov 2023

☀️🪩SUMMER DISCO🪩☀️ Thank you to our amazing parent group for such and AWESOME night! Students danced the night away! 💃 🕺🪩 With great music and a yummy sausage sizzle! Excited for the next one 🎉 #schooldisco #gsps #primaryschool #plumpton

28 Nov 2023

Our wonderful Year One students have been busy unleashing their creativity after focusing on The Magic Hat - a lovely picture book by Mem Fox! ✨ Student were tasked with creating their own magic hat. First they made a draft of the features, colours and design they wanted, then they went off to making it! Check out some of the many cool 'Magic Hats' that were made! 👒🎩🧢 #memfox #magichat #picturebooksforkids #education #gsps #primaryschool