Primary students skill up at Catholic Trade Training Centres
20 Sep 2018
Primary students learnt how taking on a trade could lead to a dream job when Catholic Education Diocese of Parramatta (CEDP) opened its Trade Training Centres during National Skills Week.
An interactive showcase was run by secondary students at McCarthy Catholic Trade Training Centre, Emu Plains and Loyola Catholic Trade Training Centre, Mount Druitt to educate Primary students to consider their career options.
CEDP Registered Training Organisation Manager Karen Ruppert said National Skills Week highlights the talent, skills, career pathways and value of apprentices and trainees across Australia.
We decided to focus on primary students because all students need to experience the world of work, particularly work of the future, long before they leave school. Exposure to the world of work provides opportunities for students to build connections with professionals outside their usual family networks.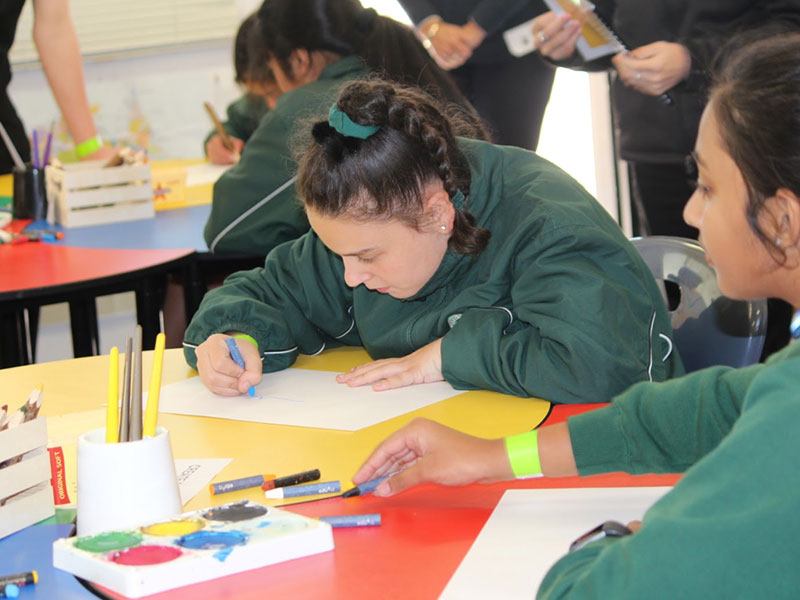 "Young people's pathways are formed early - with career aspirations often following traditional gender stereotypes, and tending to reflect student interest and achievement in traditional school subjects.
"Varied opportunities to engage with the world of work, through career talks, mentoring, and excursions to job sites can be valuable from primary school through to secondary school, particularly for students at risk of disengagement."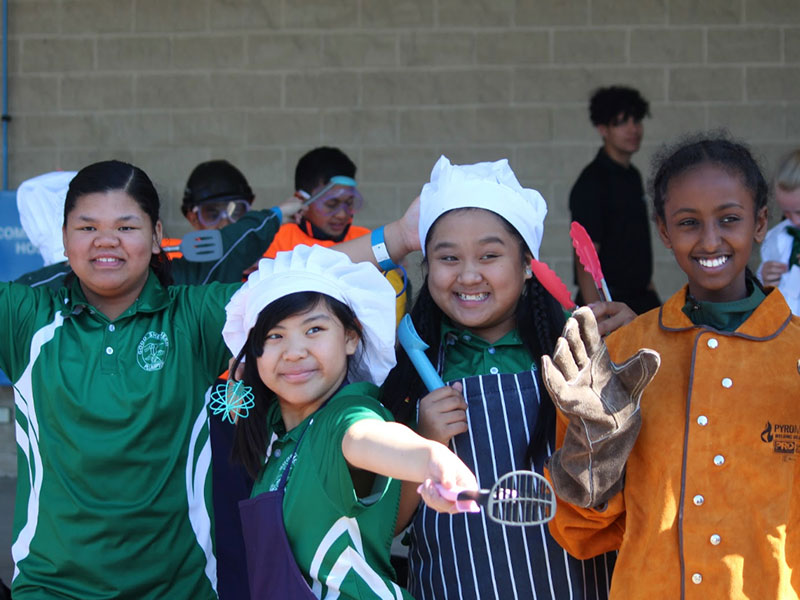 Students were given the chance to participate in activities including carpentry, cooking, mechanics, hairdressing, electrical, landscaping and early childhood education.
Good Shepherd Primary School Year 6 teacher Tiffany Reid said she really liked the carpentry activity which saw students make pencil boxes and book stands.
"I think it was great for all the kids in terms of the different activities which were planned,'' Mrs Reid said. "None of our students have ever been exposed to what Catholic Trade Training Centres have to offer and this showcase especially had the boys engaged."
Year 6 teacher Christina Ellul said the role modeling by the secondary students was very good.
"It was refreshing to see them take charge and guide the students through the different activities planned. It was very well organised,'' she said.
Facebook
29 Nov 2023

☀️🪩SUMMER DISCO🪩☀️ Thank you to our amazing parent group for such and AWESOME night! Students danced the night away! 💃 🕺🪩 With great music and a yummy sausage sizzle! Excited for the next one 🎉 #schooldisco #gsps #primaryschool #plumpton

28 Nov 2023

Our wonderful Year One students have been busy unleashing their creativity after focusing on The Magic Hat - a lovely picture book by Mem Fox! ✨ Student were tasked with creating their own magic hat. First they made a draft of the features, colours and design they wanted, then they went off to making it! Check out some of the many cool 'Magic Hats' that were made! 👒🎩🧢 #memfox #magichat #picturebooksforkids #education #gsps #primaryschool