The wearing of school uniform develops a feeling of recognition as a member of Good Shepherd Primary School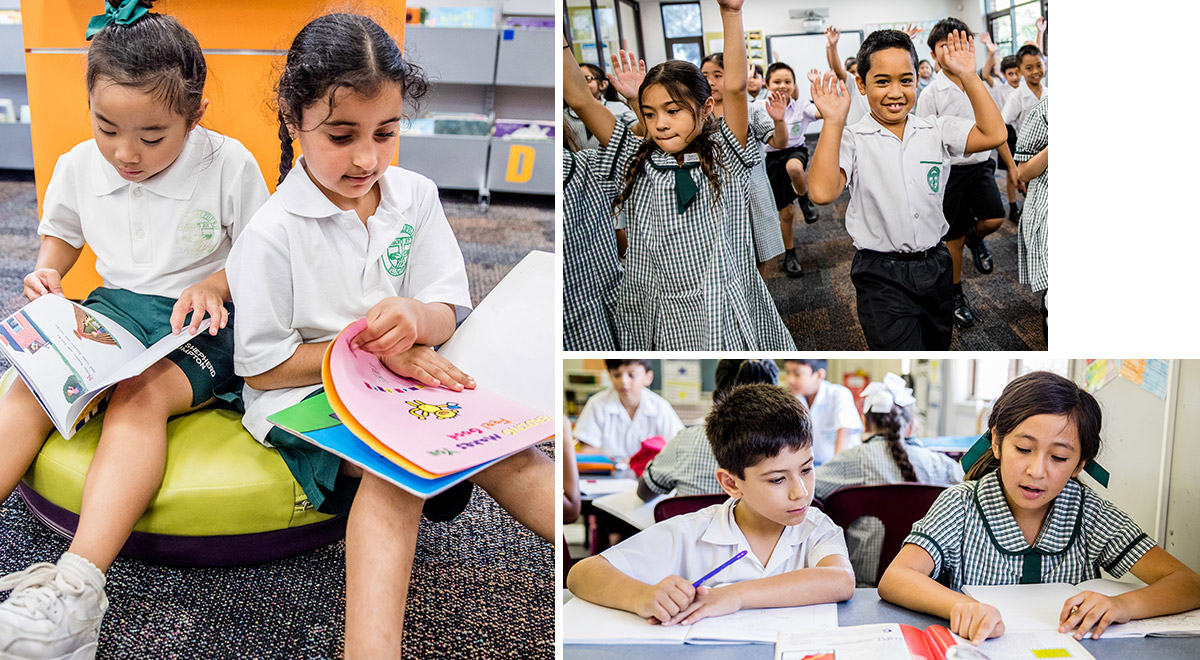 The correct school uniform should be worn at all times, in order to maintain the standard and tone of the school. If, for any reason, a child is unable to wear any part of the correct uniform, a note should be sent to the school.
Parents who have difficulty securing uniforms for their children may like to make this known to the Principal, who will try to arrange some assistance.
Parents are asked to please ensure that children attend school in accordance with uniform expectations.
In addition, the following expectations apply to students at Good Shepherd. Hair is a very important aspect of your child's appearance. Children must have appropriate haircuts. Coloured hair is not permitted, nor should hair be cut in steps or stairs, or have any other symbols, lines or patterns. Long hair needs to be tied back. Green or white ribbons or scrunchies are permitted. No rat's tails or mohawks are permitted. Short hair needs to be of a consistent length, no shorter sides.
Jewellery is also important to your child's appearance. Only one plain sleeper or stud is to be worn in each earlobe. No other earrings are permitted. One signet ring is permitted and a cross and chain or other symbols of our faith are permitted. Any other jewellery is not permitted, nor is makeup of any description.
School uniform items are available from Lowes, Westfield's at Mt Druitt. Lowes are the major supplier of uniforms for the school.
New school hats, tights, socks, school bags and library bags are available from the school uniform shop, as well as a selection of used uniforms. This is a voluntary service run by the Parent Group.
NO HAT/ NOT PLAY
The school has a policy in place to protect the children from the harmful rays of the sun. If a child does not have their school hat on before school, recess, lunch or for outside activities, or sports, they must sit in the shade and cannot play in the playground. School hats are available for purchase from the school office or the school uniform shop.
The School Green Beanie is acceptable but not as a substitute for the School Hat.
Children must wear their hat after school, as they leave.
SUMMER UNIFORM
Girls
School Uniform Dress
White Fold Down Socks
Black School Shoes
Green Zip-Up Jacket
School Uniform Hat
Boys
White Short Sleeve Shirt
Black Shorts
Black Socks
Black School Shoes
Green Zip-Up Jacket
School Uniform Hat
WINTER UNIFORM
Girls
School Uniform Checked Tunic
White Long Sleeve Blouse
Checked Scissor Tie
Green Hair Ribbons
Grey Tights, or Grey Socks
Black School Shoes NOT Black Joggers
Green Zip-Up Jacket
School Uniform Hat
Boys
Black Long Pants
White Long Sleeve Shirt
Green Zip-Up Jacket
Black Socks
Black School Shoes NOT Black Joggers
School Checked Tie
School Uniform Hat
SPORTS UNIFORM
Girls
White Polo shirt with School Emblem
Bottle Green Shorts
Bottle Green Tracksuit Uniform
Predominantly White Joggers/Sneakers
A white skivvy (colder weather)
White Socks
School Uniform Hat
Boys
White Polo shirt with School Emblem
Bottle Green Shorts
Bottle Green Tracksuit Uniform
Predominantly White Joggers/Sneakers
A white skivvy (colder weather)
White Socks
School Uniform Hat
In cooler weather, a bottle green uniform tracksuit is worn, and a white skivvy may be worn under the white polo shirt. For assistance in tying a school tie, please click on the following video: https://www.youtube.com/watch?v=pnJUo173GaQ